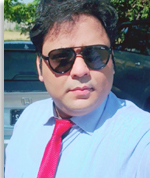 Zulfiqar Ali obtained a Doctorate degree in Statistics from Quaid-i-Azam University Islamabad under the supervision of Dr. Ijaz Hussain. During his Ph.D., Ali worked with Dr. M.A. (Marco) Grzegorczyk in the Netherlands under the Short Exchange Program of the Higher Education Commission of Pakistan.
In May 2022, Ali joined the College of Statistics and Actuarial Sciences, University of The Punjab as an Assistant Professor of Statistics. Prior to this, Ali served as a visiting and contract faculty member in various universities in Pakistan, including Quaid-i-Azam University Islamabad, International Islamic University Islamabad, University of Sargodha, Sargodha, and University of Sialkot, Sialkot.
To date, Dr. Ali has made significant contributions to the field of research, publishing 40 full-length research articles in reputable international scientific journals with a cumulative Impact Factor of more than 125+. He has also demonstrated his research capabilities by being awarded a research project titled "On the Accurate Assessment of Climate Hazards Under Various Statistical Paradigms" from the University of the Punjab, Lahore.
Currently, Dr. Ali is supervising the research work of several students, including three PhD students, six MS/MPhil students, and nine BS students. He has also contributed to the academic community by reviewing several research articles from international journals.
Dr. Ali holds memberships in various committees, including the Departmental Doctoral Programme Committee (DDPC), Exams Inspection Committee (Internal), Allah Waly Trust Scholarships Awarding Committee (Internal), Decoration Committee for Sport Fest 2023, and he is also the Incharge of Badminton (Single & Double) for Sport Fest 2023 at the College of Statistical Sciences, University of the Punjab, Lahore.
With rich experience in statistical data collection, modeling, and forecasting, Dr. Ali's research focuses on data related to Biomedical research, animal sciences, Climate Projections, water management, and meteorology, geo-statistics. His expertise includes Clinical Trails, Case Control Studies, Latent Class Anaysis, Randomized Control Trails,  Ecological Statistics, Environmental Statistics, Stochastic Process, Time Series Process Modeling, Statistical Theory and Methods, Modeling Aridity and Drought, Neural Network Forecasting, spatio-temporal Modeling, Spatial Data Analysis, Longitudinal Data Analysis, geo-spatial environmental data modeling, and the deployment of modern statistical approaches for natural process monitoring.